4-H Youth Complete Career Development Program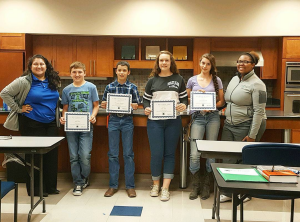 Friday night, a group of 4-Hers completed Beyond the Curve: Career Readiness Exploration Program designed to help youth develop skills and knowledge in career exploration. This program was based on the peer-reviewed National 4-H Curriculum called Build Your Future: Choices… Connections… Careers…
During the 14 weeks, youth were able to identify life skills related to 4-H projects, activities, and hobbies as well as determine how these skills relate to their ultimate career goals. They were able to identify potential careers in their field of interest. The youth can now research the specific education, skills, and characteristics needed to be successful in a career. They know how to search for a job and are aware of what employers look for in a job application and resumes. They practiced their interview skills. They were able to set short-term, intermediate-term, and long-term goals in life.