Salmonella Outbreaks Linked to Backyard Chickens
Salmonella Outbreaks Linked to Backyard Chickens –  Dr. Donna K. Carver
Salmonella is a bacterium that is commonly found in and on live chickens. All chickens, both commercially raised and backyard birds can carry the organism and shed it into their environments. How the birds are first exposed to the Salmonella is often unknown. Chicks may come to you directly from a hatchery already infected with Salmonella. Other modes of exposure are wild birds, rodents, or people who have visited Salmonella positive flocks and returned to your birds carrying Salmonella and possibly other unwanted organisms on their shoes or clothes.
Birds infected with these Salmonella do not get sick. This makes it difficult to know if your birds have Salmonella. Why should you care to know if your birds are infected with Salmonella if they are not harmed by the infection? The reason to care is that infected birds are shedding the Salmonella organisms in their feces which results in contamination of everything that comes into contact with the feces. This includes feathers, skin, eggs, nest boxes, floors and ground. As an owner of birds you are in contact with these contaminated areas every day. People who visit you and your birds are also exposed the Salmonella organisms. The organisms, while not harmful to your birds, can be harmful to humans, especially young children (less than 5 years of age) and people over 65 years of age. People that are between these ages groups can become infected with Salmonella but generally have mild illness compared to the young and old groups. Young children and older adults can have more severe disease that can result in hospitalization and even death. Since January 4, 2017, an outbreak of human Salmonella cases has resulted in the following statistics (last report July 31, 2017).
In interviews 74% of ill people reported having contact with backyard chickens in the week previous to getting sick.
How do I know if I am sick from Salmonella? Clinical signs include diarrhea, fever and abdominal cramps. It generally takes 1-3 days after exposure to the organism to start feeling sick.
* not all cases are reported
*961

CASES

48

STATES

215

HOSPITALIZATIONS

1

DEATH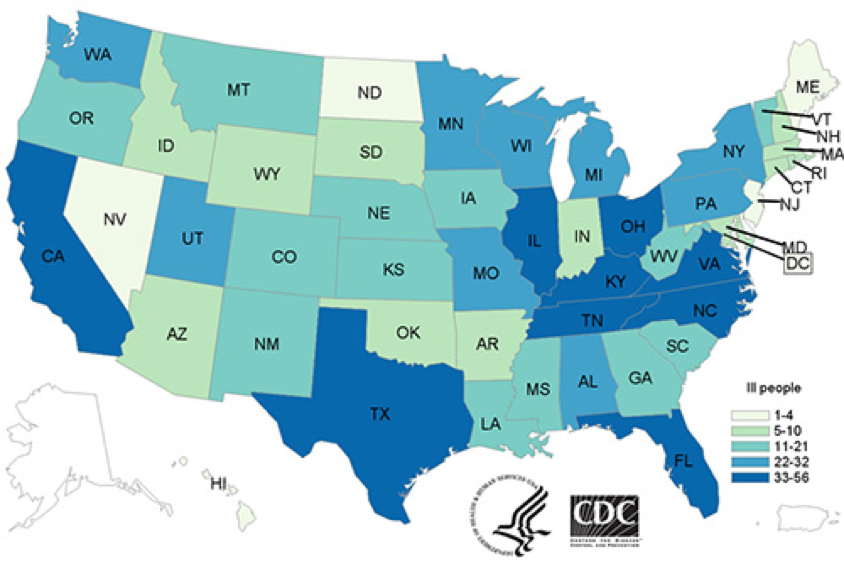 Number of cases per State – North Carolina has 45 reported cases.
What can I do to prevent my chickens from infecting people with Salmonella?
Always wash hands thoroughly with soap and water right after touching live poultry.
Do not let children younger than 5 years handle or touch chicks, ducklings, or other live poultry without adult supervision.
Don't let live poultry inside the house, especially in areas where food or drink is prepared, served, or stored.
Set aside a pair of shoes to wear while taking care of poultry and keep those shoes outside of the house.
Strongly discourage children younger than 5 years, adults older than 65, or people with weakened immune systems from conditions such as cancer treatment, HIV/AIDS or organ transplants, touching chicks, ducklings, or other live poultry.
Avoid kissing your birds or snuggling them, then touching your mouth.
Buy birds from hatcheries that participate in the U.S. Department of Agriculture National Poultry Improvement Plan (USDA-NPIP)
Was the information on this page helpful?
This page can also be accessed from:
go.ncsu.edu/readext?485613