Dash & Dot Competition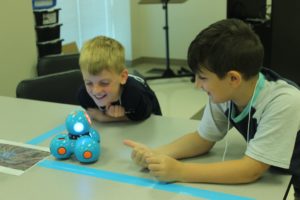 Since the inception of the 4-H Youth Development program, 4-H youth have been engaged in demonstration projects that bring innovation and understanding of land-grant college and university research to local communities. Understanding and appreciating the role of science, engineering, technology, and applied math is even more critical as the needs of our society and its workforce change. 4-H introduced a new program called 4-H Science to conduct science-related activities for youth in different areas including coding.
Coding is the new team sport for future tech leaders and innovators! Coders in a team setting are able to work together to solve a problem and collectively create a solution which is similar to sports minus the football or base.
Beginning in January, Union County 4-H is inviting youth between the ages of 6 to 11 to work as a team to design real-world science and technology solutions to collaborative problem-solving challenges for Dash & Dot robots. Youth do not need experience in robotics or coding to participate in the program.
The first practice and information session is on January 26, 2019, at 11 a.m. If you are interested in signing your child up for this FREE experience, please contact Crystal Starkes, 4-H Agent, at crystal_starkes@ncsu.edu or 704.283.3735.