Stay Active and Hydrate this Summer!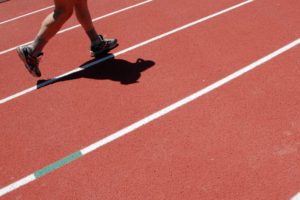 As we roll into our summer months, we have warmer weather, more sunshine, and more residents outside. Aside from getting the best source of Vitamin D through sunlight-to-skin contact, being outside encourages people to stay active. Doing different styles of physical activity, while including good eating habits, helps promote better well-being for the body. According to The Physical Activity Guidelines for Americans, school-age children should at least do 60 minutes or more of moderate to vigorous-intensity activity daily, adults should at least do 2.5 to 5 hours a week of moderate-intensity activity, and older adults should do multicomponent activity including aerobics and muscle strengthening weekly based on their limits. Some activities that are great for getting in exercise can include a nice walk in the park, going for a swim in the pool, a quick run around the neighborhood, playing on jungle gyms at the park, and playing outdoor sports like basketball or baseball.
With all this great activity in the warmer weather, it's also important to include drinking plenty of water to keep you hydrated. There have been many recommendations for water consumption requirements, but the big picture for warm weather is to prevent dehydration. According to an article from the Academy of Nutrition and Dietetics, signs of dehydration through activity can be fatigue, dizziness, flushed skin, and increase body temperature. This may also lead to heat exhaustion which can lead to a worse situation such as hospitalization. Staying hydrated is as drinking water all throughout the day, and consuming a lot before any strenuous activity. The key to having a fun summer with your family is going outside and staying cool with plenty of water!
References:
"Hydrate Right" – The Academy of Nutrition and Dietetics
"Physical Activity Guidelines for Americans, 2nd Edition" – The U.S. Department of Health and Human Services