True Leaders in 4-H: Kevin Stokes
Find this article at:
go.ncsu.edu/readext?649029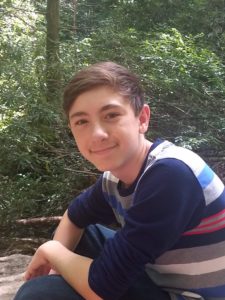 This week's True Leader in 4-H is 15-year-old Kevin Stokes. Kevin is a member of the Union County Teen Council and has been involved in 4-H for 9 years. In addition to being in the Union County Teen Council, Kevin has participated in the 4-H Presentation competition. Some of his hobbies include playing tennis and piano. Read below to learn more about Kevin and how 4-H has impacted his life. 
What is your favorite component of the 4-H Program?
I really enjoy the livestock events. My favorite time is when I get to show my rabbit Oreo. She has won several blue ribbons. I like getting the chance to see the other animals that I don't normally get to see living in the city.
What does 4-H mean to you? 
I have been in 4-H for my whole life. It is so special to me because I get an opportunity to help the community. It opens up my personality. I am normally shy, but not anymore because of things I get to do with my 4-H group.
What is your most memorable 4-H moment?
My most memorable moment was going away to 4-H camp last year. It was the South Central District Teen Retreat and it was my first time being away from home in a camp. I loved all the workshops and just hanging out with new friends. It was really fun and I hope to go again.
What makes you a True Leader in 4-H? 
I think I am a True Leader in 4-H because I have learned to be helpful. I can speak up well thanks to many years of giving presentations. I can encourage others because I know all the amazing things that 4-H can do.
If you were an animal, what would you be and why?
I would be a jaguar. I love that they can move fast and live in open fields.