Summer Fun 2020 – Creating Summer Memories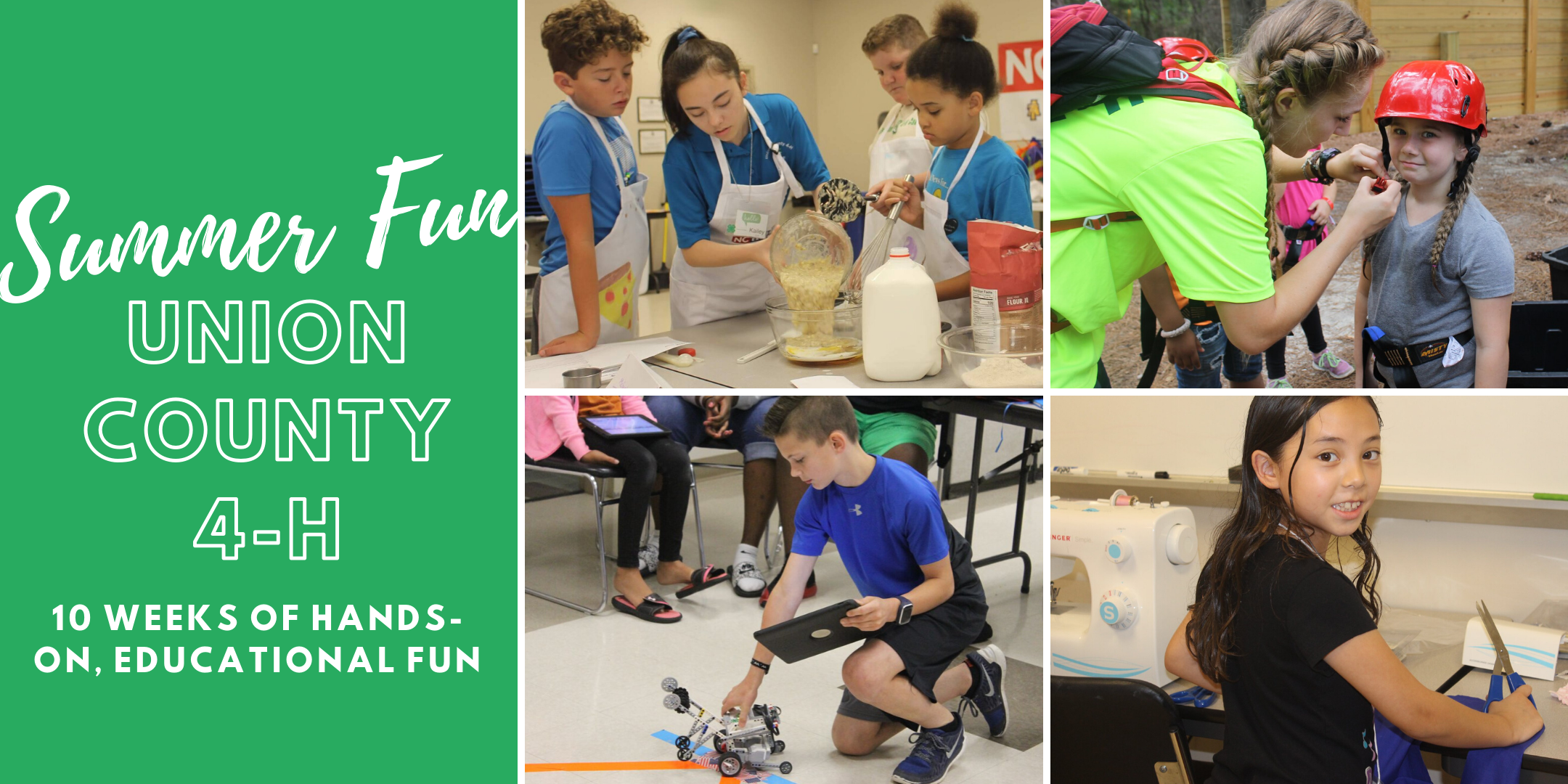 Now is the perfect time to start thinking about activities your kids can do this summer. This year, Union County 4-H is offering 10 weeks and 15 camps of Summer Fun programming for youth ages 5-14. A full list with their descriptions can be found in the information packet attached below. Let your child create summer memories and make new friends this year during our summer camps.
Date
Camp
Age
Cost
June 15-18
Beyond the Backyard: Exploring Nature
8-12
$100
June 21-26
Millstone 4-H Center Overnight Camp *Contact the 4-H Office to Register*

2 female and 4 male spots available. 

8-14
$420
June 22-23
Kid Chef: Beginner
8-12
$75
June 24-26
Kid Chef: Advanced
9-13
$100
June 29-30
Cloverbud Robotics
5-7
$50
July 1
Day of Service
8-14
$10
July 6-10
KidsBots
8-12
$75
July 13-17
Project Runway: Sewing 101
8-12
$100
July 27-31
Animal Adventures
10-14
$125
Aug.2-7
Millstone 4-H Center Overnight Camp *Contact the 4-H Office to Register*

2 male spots available.

8-14
$420
Aug. 3-4
Baking Buddies
5-7
$50
Aug. 5-7
Krafty Kids: Arts and Crafts Camp
5-7
$75
Aug. 10-13
Mad Scientists
5-7
$100
Aug. 17-18
4-H F.B.E. Forensics Biomedical Engineers
12-14
$75
Aug. 20-21
Adulting 101
12-16
$50
Registration is now open and closes on May 31, 2020. 
NEW: This year we are using Eventbrite to register youth to participate in the camps. You can view descriptions and instructions on the event site now, register, and pay for your child's spot in the camp. We hope this will be a stream-line process for parents to complete the necessary form in one place. 
Most of the camps this year will be from 8:30 a.m.–4:30 p.m., however early drop off is available upon request up to 30 minutes before the start of camp with the understanding that the camp does not begin until the time listed.
Parents must enroll or re-enroll their youth in 4HOnline in order to complete the registration under the 2020 4-H Summer Fun Program club. Note: If you would like to use 4-H scholarship bucks towards summer camp costs, please contact the 4-H office for further instructions. 
If you want to involve your teenagers between the ages of 14-18 involved in the summer, you can sign them up to volunteer as a Counselor-in-Training (CIT) to assist throughout the camp and learn leadership and programming skills. CITs will also get certified in First Aid and CPR as a part of the program. We couldn't run the Summer Fun program without our teen leaders, so they are important in making the camps a success. To apply, fill out this CIT Application and send it to the 4-H office.
For more information about the Summer Fun Day Camp Program or the Counselor-in-Training Program, contact us at 704.283.3740 or 704.283.3735. You can also email the 4-H office at union4hnc@gmail.com.