Add Salads to Your Self-Care Routine
Find this article at:
go.ncsu.edu/readext?694865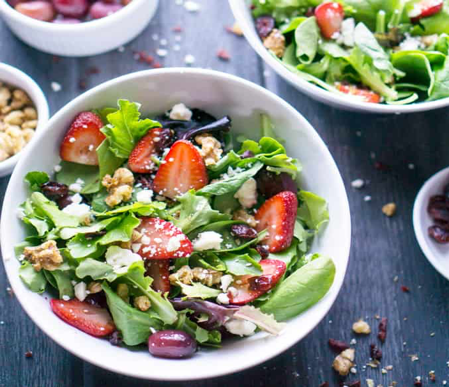 During the events of COVID-19, we have learned a lot about the importance of a healthy diet and its impact on preventing those diseases that are considered to be "underlying conditions" that allow the virus to have a greater impact on the body, such as high blood pressure, diabetes, and obesity. Quarantine has been about "self-care", one way to make a small change in your diet is to incorporate more vegetable salads.
Leafy greens and raw vegetables contain fiber. Fiber is good for our bodies. It helps to reduce LDL, or "bad" cholesterol. Fiber also helps control blood sugar and help with weight loss. According to the Center for Disease Control, research has shown that fiber intake can reduce recurrence and aid in the prevention of colorectal, mouth, throat, esophagus, and breast cancers. The carotenoids in greens help protect our vision. Greens also contain iron and vitamin K, for heart health and strong bones.
Make your salads colorful and exciting. For the base, try these greens: Spinach, watercress, romaine lettuce, and beet greens. Jazz it up with brightly colored additions, such as, red, orange, or yellow peppers, carrots, mushrooms, oranges, blueberries or other favorite fruit. I love to add sunflower seeds and raisins or cranberries. The different colors added to your salad each bring their own unique vitamins, minerals, and antioxidants.