Food Resource Management Tips
Find this article at:
go.ncsu.edu/readext?686966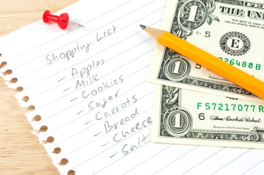 As a result of COVID-19, now is a pivotal time for most families because the children are at home all day and many families are experiencing unemployment. The month may start at a slow pace financially. Extra care must be taken to manage the family budget. Food resource management is a major component of the EFNEP program, here are a few tips to save money on your food budget:
The first step in food resource management is planning. Here are a few tips to get you started:
Think about expenses for the month, including household expenses, school fees, and holiday activities, and shopping. Budget for each activity. During this time, it is crucial to also set aside a budget for food that will sustain your family for the month. Shopping with a list will help you stick to your budget.
To help save money, look for coupons on food items, as well as, household and seasonal items. Every dollar saved is a dollar that your family earns.
Check store ads for bargains at the store and on websites. Try to get the best bargain on toys and gifts. Saving money in these areas will add extra bucks for food.
If your budget is very tight or your family is experiencing a loss of income, do not hesitate to visit local food pantries and distribution centers to ensure that your family has food. Some food pantries require a photo ID and proof of income, however, because of the impact of COVID-19, these requirements have been waved at most food pantries.