Fall Lawn Care
Find this article at:
go.ncsu.edu/readext?727931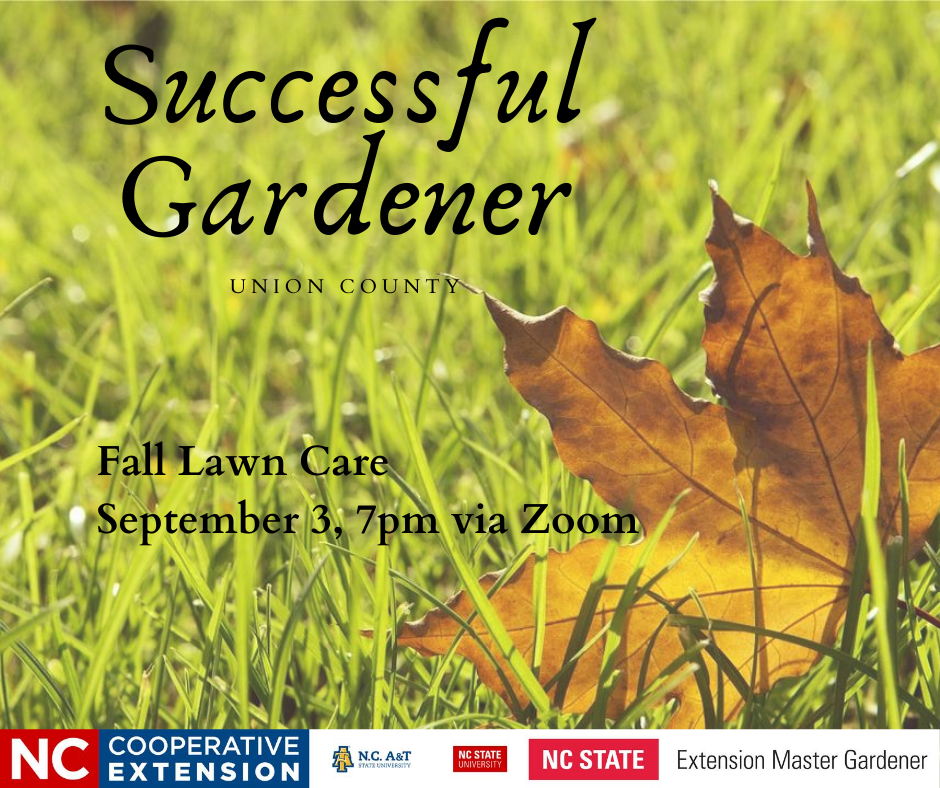 With the heat of summer and the dog days of August upon us, now is the time to be thinking about fall lawn care.
The first thing you should do is test your soil if you have not tested in the past 3 years. You can pick up a soil test kit at the N.C. Cooperative Extension, Union County Center or at any Union County Public Library. Testing the soil will give you a baseline of the nutrient levels and pH of the soil. If you need to add lime, adding it in the fall allows time for the chemical reaction to take place in the soil before the next growing season. If fertilizer is needed those recommendations will also be part of the soil test report.
Cool-season grasses, such as Tall Fescue, are best fertilized in the fall as you want to encourage root growth that will support the plant next summer. Another chore that can be done in the fall on cool-season lawns is aeration. This should be done when the plants are actively growing. Aeration can be followed with over-seeding if needed and topdressing with ¼" of good compost.
Zoysia grass can be fertilized in August and Bermudagrass in September, but should not be fertilized after that. If you fertilize these grasses too late in the season, they may not harden off properly and may be prone to winter damage.
If you had a problem with winter annual weeds this past spring, you might want to consider the application of a pre-emergent herbicide this fall to manage them for next season. This past spring, I had many calls about heavy infestations of annual bluegrass that were as a result of the warm winter and cool spring. Keep in mind that if you need to over-seed cool-season lawns, you will have to delay the application of a pre-emergent.
Join me on September 3, 2020, at 7 p.m., for the Successful Gardener program. The topic will be Fall Lawn Care. The program will be offered online via Zoom. Call me at 704-283-3729 to receive the Zoom meeting invitation.
Don't forget that the Union County Heritage Festival will be held virtually on Saturday, September 19. Visit the Union County Heritage Festival website to learn more.