4-H Loom Knitting SPIN Club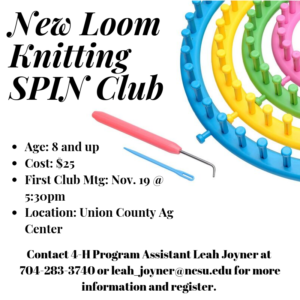 Loom Knitting 4-H SPIN Club
Simply put, loom knitting is an easy craft that uses a loom to make knitted creations instead of needles. Knitters can make several items on the loom like hats, scarves, mittens, socks, pillows, headbands, and more. In this club, we will be working with round looms, but you can also knit by using rectangle looms generally meant for blankets and scarves. If the students master how to make a hat quickly, we may learn other types of stitches that can be done on the round loom.
What will members learn in the club?
The tools used to loom knit
The types of yarns to use
The different projects that can be done on a round loom
How to make a hat for themselves, a family member, or friend
The wonder of service through a crafty project using the loom
The club is intended for beginners, but we welcome youth with all levels of loom knitting experience. It will run from November 19–December 14, 2019, with a holiday party on the last day to admire the creations of the youth.
Cost is $25 which covers the materials and loom kit. The meetings will take place from 5:30–7 p.m. at the Union County Agricultural Center.
Registration is available online at bit.ly/loomknitting.
If you're interested in joining this special interest club and learning a new skill that can be used for years to come, contact  Leah Joyner, 4-H Program Assistant at 704-283-3740 or email at 
leah_joyner@ncsu.edu
.