New County Extension Director!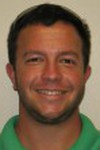 Hello, this is Andrew Baucom, the new county extension director for the North Carolina Cooperative Extension, Union County Center. I am new to the position; however, I am not new to the county. I formerly served as Field Crops Agent and Pesticide Coordinator for the N.C. Cooperative Extension of Union County office before working on campus at NC State University as a research assistant in the Department of Crop and Soil Sciences.
I am also a native of Union County. As I look forward to countless opportunities and potential that this county has, and the excellent staff that we have here at our office located at the Union County Agricultural Center, I can't help but be thankful for all the talented people who have come before and for the continued support from our county government and community stakeholders. In a time where Extension is declining across our nation, N.C. Cooperative Extension, and especially the N.C. Cooperative Extension, Union County Center is still a viable, dedicated resource for our citizens to reach their full potential by providing unbiased, practical, research-based technical assistance through educational programming that instills lifelong learning.
We work with individuals and communities to deliver education and technology that enrich the lives, land, and economy of Union County. I welcome the opportunity to display our work here at the Ag Center and across our county as we provide opportunities in the fields of Agriculture, Youth, and Food & Nutrition. Please stop by the Union County Agricultural Center or give us a call to see what we can do for you.