What About Lime?
Find this article at:
go.ncsu.edu/readext?786045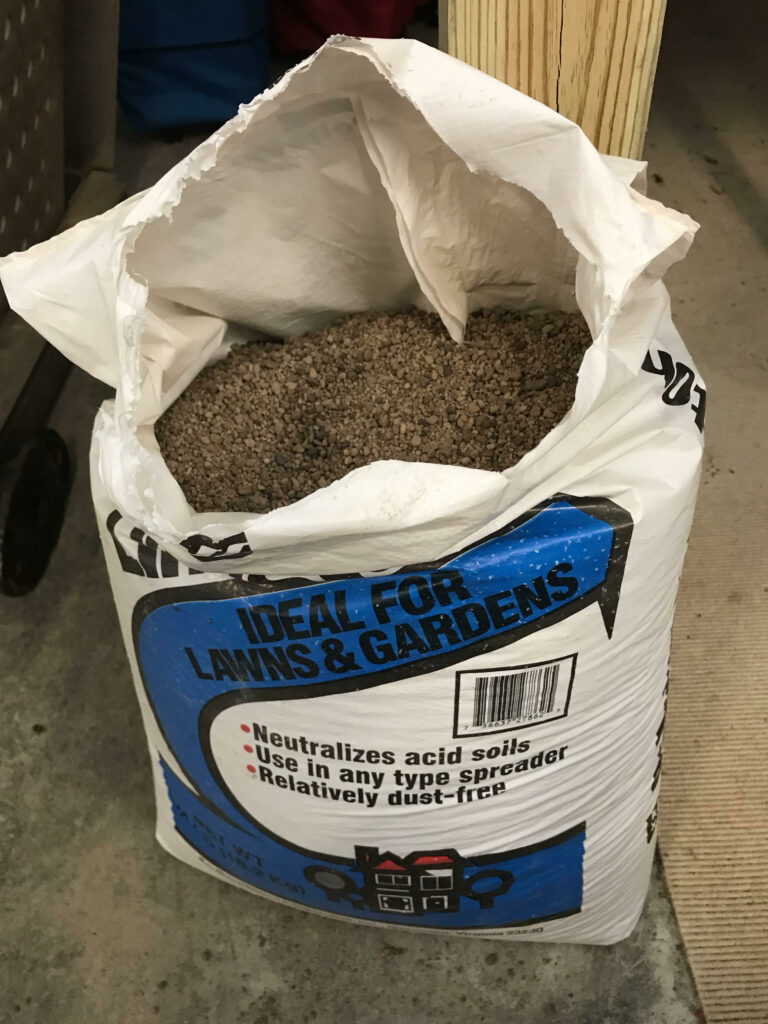 When you send off a soil sample to test the nutrient levels in your soil, one of the recommendations you will receive back will mention lime.Lime is used to adjust the pH of your soil, which impacts how other nutrients like nitrogen are taken up by the plants. This recommendation takes into account the current pH of your soil, the crop to be grown, and any previous recent lime applications to calculate this recommended amount. The first question many people ask is what kind of product should they apply.
When discussing liming materials, it is important to realize the standard is pure calcium carbonate, which is assigned a percentage of 100%. All other liming materials are rated in relation to pure calcium carbonate and given a percentage to act as a comparison. This number is called the CCE or Calcium Carbonate Equivalence. A product with a high CCE will have a greater effect on soil pH while a product with a low CCE with have less of an effect on soil pH. It is important to note that it is the carbonate in the calcium carbonate that is responsible for the chemical reaction that neutralizes soil pH, not the calcium. Many products advertise as liming materials when they only contain calcium and no other neutralizing agents present. Neutralizing agents include carbonates, hydroxides, oxides, and bicarbonates. So be aware when buying lime and make sure you look for a CCE value. The lower the CCE value, the more of the product you will have to apply to reach the same effectiveness as the recommended amount of calcium carbonate. If a soil report calls for one ton of lime and you apply a product with a CCE of 75% or 0.75 then you will actually need to apply around 2667 pounds of this product to reach the same result of applying one ton of standard Ag lime. 
Another factor to consider when purchasing liming materials is the form in which the lime comes in. When purchased in bulk, lime is usually sold in the form of a damp powder. Since it is so fine, it can be too dusty to utilize when completely dry. This is the most typical form used for large pastures since it is the most cost effective.
Lime can also be pelletized, where the ground particles have been bound together to form a pellet. This can slow the pH adjusting process since the particles don't have as much soil contact. They are easier to spread in this form but can be a less economical choice in a large-scale setting. This works well for small acreage farms as they can be spread easily with a seed or granule spreader.
Lime can also be suspended in water and is called liquid lime. Liquid lime can be easier to apply and with greater precision. But since about half of the product is water and not lime, more volume is needed to be equivalent to a ton of standard ag lime. All of the particles in liquid lime are very fine, which allows for quick reactivity. However, since the effects are more rapid, the changes can be short lived and more frequent applications will be needed to maintain the appropriate pH levels. This product would be most appropriate for a pasture that has a very low pH that must be corrected quickly. In subsequent years other products can be used as needed.
It is important to be aware of these factors when deciding what lime product to purchase for your pastures. If you need any help selecting the right type of product for your pastures, or need help calculating required amounts, feel free to contact Rachel Owens at (704) 283-3739 or reowens2@ncsu.edu.