Powerup Your Autumn With Apples and Oatmeal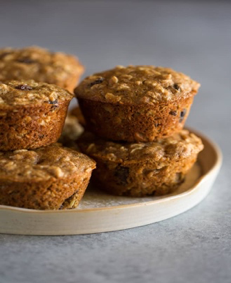 Apples are in season and what a great time to make and enjoy warm healthy applesauce oat muffins. Normally, muffins are not very healthy, however, these muffins are nutrient-dense. Oil and an extra egg have been replaced with applesauce and wheat flour is used instead of white flour. The whole grain oats add fiber and protein.
These muffins can last for up to three months in the freezer. Place cooled muffins in a sealable freezer bag and freeze. To thaw, microwave frozen muffin for 20 seconds or thaw at room temperature.
Applesauce Oatmeal Muffins
By tastebetterfromscratch.com
Recipe adapted from Mel's Kitchen Cafe
 Ingredients
1 1/4cupsold-fashioned rolled oats
1 1/4cupsunsweetened applesauce
1/2cupmilk
1largeegg
1teaspoonvanilla extract
4Tablespoonsbutter, melted (or coconut oil)
1/3cupgranulated sugar
1cupwhole wheat flour
1teaspoonbaking powder
3/4teaspoonbaking soda
1teaspoonground cinnamon
1/4teaspoonsalt
1/2cupraisins, or Craisins, or chocolate chips
Directions
Preheat oven to 375 degrees F. Line a 12-cup muffin tin with liners or grease with non-stick cooking spray. Set aside.
In a medium bowl, stir together the oats, applesauce, milk, egg, vanilla, butter, and sugar.
In a large bowl, mix the flour, baking powder, baking soda, cinnamon, salt and cranberries or raisins.
Make a well in the center of the dry ingredients and pour in the applesauce mixture. Stir just until combined (don't overmix!)
Spoon the batter evenly into the muffin cups. Bake for 15-20 minutes or until a toothpick inserted in the center comes out clean.
Don't over-bake or the muffins will be dry. Remove them to a cooling rack. Cool completely before freezing in a freezer bag.
Nutrition
Serving: 1muffin | Calories: 146kcal | Carbohydrates: 23g | Protein: 2g | Fat: 5g | Saturated Fat: 2g | Cholesterol: 24mg | Sodium: 147mg | Potassium: 177mg | Fiber: 2g | Sugar: 8g | Vitamin A: 160IU | Vitamin C: 0.5mg | Calcium: 43mg | Iron: 0.9mg