Ramen Noodles: Elegance on a Budget
Find this article at:
go.ncsu.edu/readext?723370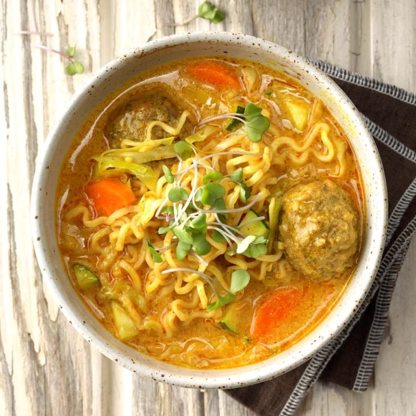 As a result of COVID-19, many families are experimenting with new recipes for familiar favorites. Ramen noodles are inexpensive and can be dressed up on a budget. The real bonus is that most recipes are made without the heavy sodium seasoning packet. Try this recipe for
Red Curry Carrot Soup by Taste of Home:
3 packages (3 ounces each) ramen noodles
3 garlic cloves, minced
2 tablespoons peanut oil
1 can (13.66 ounces) coconut milk, divided
2 tablespoons red curry paste
1-1/2 teaspoons curry powder
1/2 teaspoon ground turmeric
32 frozen fully cooked homestyle meatballs (1/2 ounce each)
4 cups chicken broth
1 medium zucchini, finely chopped
1 medium carrot, halved and sliced
1/4 cup shredded cabbage
2 teaspoons fish sauce or soy sauce
Optional garnishes: Bean sprouts, chow mein noodles, chopped fresh basil, green onions and microgreens
Cook noodles according to package directions (discard seasoning packets or save for another use).
Meanwhile, in a Dutch oven, sauté garlic in oil for 1 minute. Spoon 1/2 cup cream from the top of coconut milk and place in the pan. Add the curry paste, curry powder, and turmeric; cook and stir until oil separates from coconut milk mixture, about 5 minutes.
Stir in the meatballs, broth, zucchini, carrot, cabbage, fish sauce, and remaining coconut milk. Bring to a boil. Reduce heat; simmer, uncovered until carrot is tender and meatballs are heated through 15-20 minutes. Drain noodles; stir into soup.
Garnish with bean sprouts, chow mein noodles, basil, green onions, and micro greens if desired.